Dr. Ioana Sovarel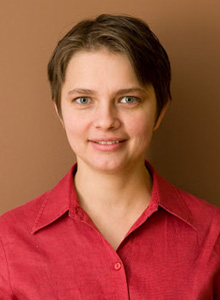 Dr. Ioana Sovarel is a graduate of the University of Bucharest, class 2001 as well as a graduate of the University of Alberta, Faculty of Dentistry in 2007 where she received her Doctorate in Dental Surgery degree.
She then joined a group of practice where she dedicated four years to caring for patients. She is very committed to staying on the leading edge of dental technology. This enables her to achieve not only great-looking but strong, long-lasting and predictable results for each patient.
Dr. Ioana is a member of the Canadian Dental Association, Alberta Dental Association & Edmonton & District Dental Society.
When not working, she enjoys time with her family and caring for her two children.
I am Dr. Ioana Sovarel. I am a general dentist and have been practicing dentistry in Edmonton and St Albert for 16 years. I graduated from the Dental School of Bucharest Romania in 2001, completed one year of residency studies at the same University and then moved to Canada. In 2007, I graduated Faculty of Dentistry at the University of Alberta. I worked as an associate until 2012 when I decided to establish in the lovely community of St Albert and become the owner of Family Dental. I was delighted to meet again many of my previous patients since Family Dental was the first office I worked at after my graduation. My sister and I enjoy practicing dentistry in this community and as a commitment to our patients, we strive to employ new techniques and technology that make modern dentistry successful. I know the power of a beautiful smile and I have absolute respect for the function of the dental area. I also understand the different expectations patient have and I wish to help by giving you the tool of understanding when making decisions about your treatment.

I am also a mother and a wife. I know what a busy lifestyle means and how important your time can be. My wish is to provide service for you in a reliable and efficient manner.

Thank you for taking a moment to know me. I would very much want to get to know you!

Dr. Ioana Sovarel
Ask Questions
We will gladly answer any questions you may have.
Ask Questions
Book Online
Family Dental offers the ability to request your dentist appointments online. Schedule an appointment now!
Book Online
New Patient Forms
By filling out the New Patient Forms ahead of time you will save significant time on your visit.
New Patient Forms