Intraoral Scanner
Say Goodbye to Gagging Impressions with 3Shape TRIOS
For many people, visiting the dentist and undergoing various procedures can be quite an uncomfortable experience. One of the most dreaded procedures is taking dental impressions, which often involve messy, gooey materials that can trigger the gag reflex in patients. However, thanks to advancements in dental technology, there is now a solution to this problem – the intraoral scanner.
At Family Dental, we use the 3Shape TRIOS intraoral scanner, a cutting-edge device that allows us to take digital impressions in true colour. This innovative tool is a game-changer in the world of dentistry, as it replaces the need for traditional dental impressions that many people find unpleasant.
The 3Shape TRIOS scanner is a small, handheld device that we use to capture 3D images of your teeth and gums. The scanner uses a high-speed camera and laser to create a digital model of your mouth, which we can then use to create accurate and precise dental restorations such as crowns, bridges, and implants.
One of the best things about the 3Shape TRIOS scanner is that it eliminates the need for traditional dental impressions, which can be quite uncomfortable for patients. With the scanner, there is no need for gooey impression materials that can trigger the gag reflex, and the entire process is quick and painless.
In addition, the 3Shape TRIOS scanner allows us to take digital impressions in true color, which is a significant improvement over traditional impressions. With the scanner, we can capture every detail of your teeth and gums in vivid color, allowing us to create dental restorations that blend in seamlessly with your natural teeth.
The benefits of using the 3Shape TRIOS scanner don't stop there. The scanner is incredibly accurate and precise, which means that we can create dental restorations that fit perfectly and require minimal adjustments. This, in turn, leads to a faster and more comfortable dental restoration process for you.
Overall, the 3Shape TRIOS intraoral scanner is a very cool resource that has revolutionized the world of dentistry. If you've been putting off dental procedures due to a fear of uncomfortable traditional impressions, it's time to say goodbye to gagging impressions and hello to the 3Shape TRIOS scanner. Visit our dental clinic today to experience the benefits of this innovative technology firsthand.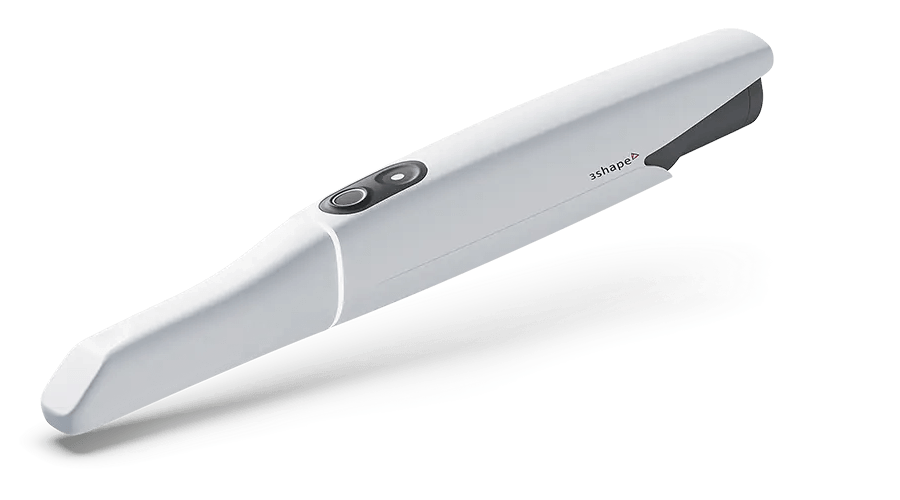 Modern technology is continually shaping the way that we approach and provide treatment in the health industry; this statement has proven very true in the dental field. Family Dental is proud to incorporate the latest technology into our practices to ensure that you receive the highest quality dental experience.
Traditionally, dental impressions have required that we take a physical impression of your mouth that is then sent to a lab to create your appliances and retainers. This process can be uncomfortable to some and just plain messy! With the TRIOS scanner, we are able to scan the teeth and email the "impression" to our lab or any lab, where we will have the ability to build retainers and other appliances, using our 3D printer! We are currently in the process of transitioning away from impressions for all retainers. It's an amazing process that produces many benefits.
Scans are immediately sent to labs (even Invisalign) to begin the fabrication process.
Fewer appointments needed;
Fewer "remakes" due to the incredible accuracy of the scans;
More comfortable than traditional impressions;
Less intimidating for small children who may be scared.
In addition to the benefits listed above, the scanner also uses a RealColor feature that showcases your mouth in natural colors thus making it easier to evaluate for proper treatment. University studies have shown that TRIOS scanner operates with high accuracy. For your convenience, we will be using the TRIOS Cart on wheels, which allows us to move from chair to chair and reduce your wait time!
We look forward to seeing you in our office and creating an exceptional dental experience for you.
If you have any questions about the TRIOS scanner or would like to schedule a consultation, please call us at (780) 458-1991.
Ask Questions
We will gladly answer any questions you may have.
Ask Questions
Book Online
Family Dental offers the ability to request your dentist appointments online. Schedule an appointment now!
Book Online
New Patient Forms
By filling out the New Patient Forms ahead of time you will save significant time on your visit.
New Patient Forms